Writing Web Pages can be tedious. I love the control a simple text program gives me but setting up the basics takes too much effort. What I really need is a program that lets me paste text, or better yet, drop files on the program icon, and convert all essentials automatically. For good measure, let it open the result in the browser. And heck, why not a right click menu that lets me set various web tags? So,



Buck Rocks' Text2Web to the Rescue!
For Easy Use
Type your text in Notepad or some such. Copy the text and paste it into the top window. Or just dump the file on the icon. Voila, a basic web page, with font, spacing and even tags for footnotes 1-9. Click to open the result in your browser or to save as an HTML file. Or paste stuff into Notepad if you love its power.

More Features let you right-click to open a popup menu with a variety of useful tags: Lists, center, bold, italics, underline, links to files and graphics, and more. Highlight text, select the tag, done! And print, copy, paste and more. Convert a number of international characters automatically. No complex setup required. Tool tip hints explain your options.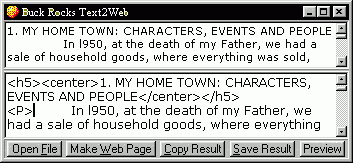 New in this release: First line becomes centered title automatically.
Check the License Agreement you need to accept for this program.
Uninstall from Start/Programs/Buck Rocks.